a space
of free experimentation and performance
for
the visitor
INSTRUMENTOS
download the guide to our activities
LIVE INTERACTIVE EXHIBITION
The Instrumentos Exhibition is a space where the visitor is encouraged to actively engage and interact with the work on display. The exhibition is meant to turn the gallery into a performance space and the visitors into performers. The works include a collection of over thirty pieces among musical instruments, sound devices and sound installations.
Visitors are frequently asked to participate in recordings throughout the show. A whole educational program is implemented with workshops for all age groups, talks, games and performances.
'the Paul Hamlyn Hall looked amazing. The whole feeling around the exhibition with it's interactive inclusiveness was perfect. I think it was the best use of the space I have seen for Deloitte Ignite Festival.'
Rebecca Hanson
Event Producer
Royal Opera House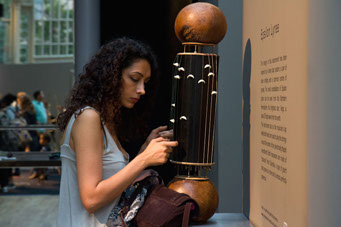 BOOKING INSTRUMENTOS
We offer an exhibition ready to be shipped in crates with everything from plinths, graphics, interactives and some lighting and sound equipment. It takes one day to set it up.
The exhibition includes one or more concerts by Victor Gama solo or with his trio, workshops, talks and games.
We have more then ten years of experience installing this exhibition and making it really work with audiences in all kinds of events. Instrumentos has recently been installed at the Royal Opera House in London, at the Fundación Carlos D'Amberes in Madrid, The National Centre for Craft & Design in the UK, Centro Cultural de Belém in Lisbon or at Ormeau Baths Gallery in Belfast. It traveled to Brazil, Mozambique, Spain, Canada, UK and Portugal.
EXHIBITION DESIGN AND LAYOUT
We can design the whole layout for an INSTRUMENTOS exhibition using a 3D model of the gallery space with animations and graphics that we can supply to the promoter for a better visualization of how the exhibition will look like.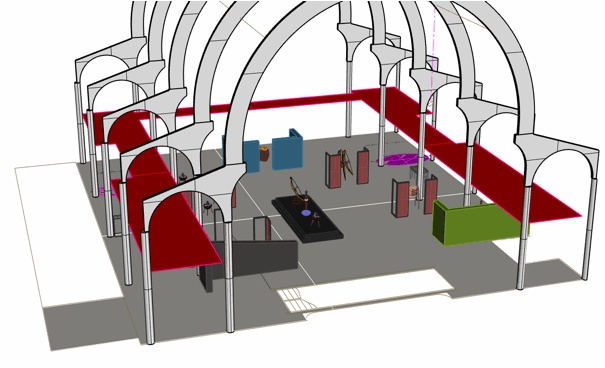 INSTRUMENTOS MUSIC
buy online or stream music from:
- itunes
- spotify
© 2012 PangeiArt. All rights reserved.
CONTACT US
- +351/912706612